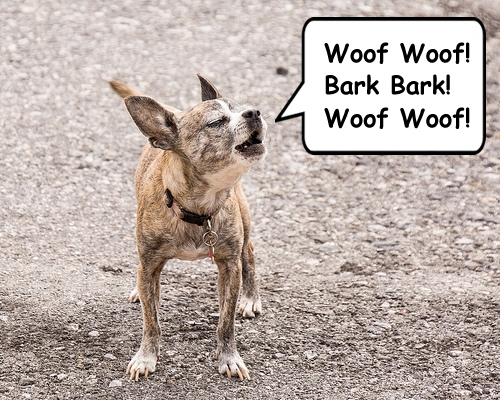 Does your Chihuahua bark up a storm at every little thing he sees? Well, you aren't alone. Excessive and inappropriate barking is one of the most common behavioral problems reported by Chihuahua owners.
Some Chihuahuas bark only when there's a knock at the front door, while others bark at the television, vacuum cleaner, broom, radio, other pets, pedestrians walking outside, or for no apparent at all. This behavior can become a nuisance and make life difficult for both you and your family, but you can train even the most vocal Chihuahua to stop barking by following the tips listed below.
Is Barking Really That Bad?
Chihuahuas bark for a variety of reasons, some of which are appropriate while others are not. Barking in itself isn't necessarily bad. From large Mastiffs to small Chihuahuas, all dogs communicate through barking. If your pint-sized canine companion sees a large dog roaming the yard, he may bark loudly to alert you of the other dog's presence. Other Chihuahuas bark when they need food or water. And let's hope this never happens, but a Chihuahua may also bark when there's an intruder trying to enter the home.
There are times, however, when a Chihuahua's excessive barking is a nuisance. Perhaps your Chihuahua barks at 6:00 AM every morning when the neighbor leaves for work, or maybe he barks when the mailman drops off packages at your front door. Scenarios such as these can disturb your sleep, anger your neighbors, and promote a chaotic and stressful environment in your home. As an owner, it's your responsibility to define when it's acceptable for your Chihuahua to bark and when it's not.
Why Chihuahuas Bark
The first step to controlling your Chihuahua's barking is understanding why he does it.
Boredom: Some Chihuahuas bark because they are bored. Being social "pack" animals, Chihuahuas need just as much attention as larger breeds, and failure to provide your Chihuahua with daily attention can lead to barking problems. If you leave him alone all day, your Chihuahua may bark at passing cars simply because there's no other form of physical or mental stimulation available. Also, leaving the television running is

NOT

suitable stimulation to prevent boredom.
Frightened: Another common reason why Chihuahuas bark is because they are threatened or frightened. Whether it's the presence of a stranger at the front door, Fourth of July fireworks, thunderstorms, or the vacuum cleaner running (yes, some are afraid of vacuum cleaners), Chihuahuas often bark when frightened. Potential threats trigger this same visceral reaction, prompting them to bark. You can often tell if fear is causing your Chihuahua to bark by examining his posture. Frightened Chihuahuas tend to push their ears back and hold their tail low.
Territorial: Chihuahuas are territorial and may bark when another pet or person encroaches upon their space. If your Chihuahua has a crate, for instance, he may bark, growl and exhibit other signs of aggression when another pet attempts to enter. A Chihuahua may also exhibit territorial aggression when another pet approaches while he's eating or drinking.
Needs Something: Just like babies cry when they need milk, a Chihuahua may bark when he needs something such as food, water, or when he needs to go potty. These barks are generally softer and shorter than barks caused by territorial aggression or a perceived threat.
Separation Anxiety: Does your Chihuahua whine, whimper or bark when you leave the house? This is a characteristic sign of separation anxiety, which occurs when a Chihuahua feels the constant need to be with his owner at all times. Some owners disregard separation anxiety as being harmless or even cute, but it causes severe stress and anxiety.
Dementia: One of the lesser-known causes of excessive barking is dementia. According to a study cited by PetMD, up to half of all dogs over the age of 11 show signs of dementia. Also known as canine cognitive dysfunction, it affects the dog's mood, cognitive function, memory and learning. One of the side effects of dementia is barking, as dogs suffering from this disease are likely to vocalize at inappropriate times.
Excitement: When a Chihuahua is excited, his natural reaction is to bark. This excitement can come from any number of sources, such as a new toy, a treat, going for a car ride, or seeing their owner come home after a long day. Excitement barking is also a way of getting of your attention, saying "hey, I'm ready to play."
How to Stop Your Chihuahua from Barking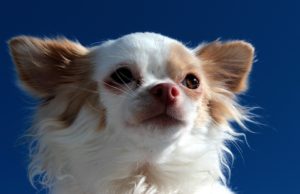 Not all barking is bad, and owners shouldn't attempt to prohibit it altogether. Chihuahuas make excellent watch dogs, alerting owners to the presence of intruders or nefarious individuals. But if you teach your Chihuahua not to bark at strange noises in the middle of the night, an intruder could sneak into your home undetected. Of course, there are times when it's not acceptable for a Chihuahua to bark -- and you should focus your training efforts on these situations..
Step #1) Don't Reward Your Chihuahua for Barking
While it's unlikely that you give your Chihuahua a treat for barking, you could still be encouraging this behavior by showing affection or playing with him. In an effort to keep their Chihuahuas quiet, some owners toss a squeaky toy across the room. This doesn't just mask the problem, though; it makes the problem worse by encouraging them to bark. If you reward your Chihuahua for barking -- treats, affection, playtime, attention, car rides, etc. -- he will continue this behavior.
Step #2) Don't Punish or Scold Your Chihuahua for Barking
On the other hand, you also shouldn't punish or scold your Chihuahua for barking. Some owners assume that yelling "BAD BOY/GIRL" or "NO!" will stop this behavior. Normally, this has the opposite effect by further exciting the Chihuahua. This is because loud and negative commands sound similar to barks, so when you yell "NO!" your Chihuahua might respond by barking more loudly.
Step #3) Reward Your Chihuahua for Not Barking
As with most dog training techniques, the secret to successfully teaching a Chihuahua to stop barking is positive reinforcement. If your Chihuahua remains quiet in situations when he normally barks, reward him with a treat and affection. Does your Chihuahua bark when the neighbor pulls into his or her driveway? Reward him the next time he doesn't bark at the neighbor. Positive reinforcement is the key to stopping this behavior.
Step #3) Teach the 'Speak' Command

Why should you teach your Chihuahua the "speak" command? Well, it's difficult to teach the "quiet" command unless your Chihuahua knows how to bark on command. For the "speak" command, have a friend or family member approach your front door. Immediately before this person rings the door bell, tell your Chihuahua to "speak." If he barks, reward him with a treat and affection. It may take a few tries, but he will eventually associate the verbal command with the action itself.
Step #4) Teach the 'Quiet' Command
Next, teach the "quiet" command to your Chihuahua. To do this, have your Chihuahua bark using the "speak" command. After your Chihuahua barks, place a treat in front of his nose. He should immediately stop barking to sniff and inspect the treat, in which case you should reward him with the treat and affection. Rinse and repeat until your Chihuahua learns the command. Using the "quiet" command, you can stop your Chihuahua from barking at inappropriate times.
Step #5) Provide Plenty of Exercise
If you were to examine the lifestyle of Chihuahuas with barking problems, you would notice many of them share a common characteristic: they don't get enough exercise. Owners often assume Chihuahuas don't need frequent exercise because of the breed's small size. When a Chihuahua doesn't get enough exercise, though, he'll have built-up energy that's released through barking and other forms of inappropriate behavior. To prevent this from happening, give your Chihuahua at least 30 minutes of exercise daily, consisting of walking, playing fetch, tug the rope, or just running around in the yard.
What About Shock Collars and Spray Collars?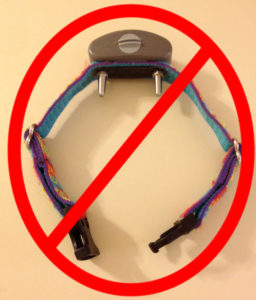 We do NOT condone the use of shock collars to stop a Chihuahua from barking. Often marketed under gimmicky names like "e-collars" and "collar-mounted electronic training aids," these collars emit an electrical shock directly into the Chihuahua's neck. Some of them are operated manually, while others automatically apply the shock when a bark is detected. The latter are particularly troublesome since they shock for all barks, both good and bad.
Whether it's manual or automatic, you should avoid using shock collars when training your Chihuahua. While typically not fatal, they still cause pain and discomfort. Can you imagine being shocked in your neck? It's not pleasant, and there have even been reports of dogs sustaining second and third-degree burns around their neck from wearing shock collars.
Aside from the pain and potential harm shock collars cause, their effectiveness is questionable at best. In a study titled "The Welfare Consequences and Efficacy of Training Pet Dogs with Remote Electronic Training Collars in Comparison to Reward-Based Training," researchers from Lincoln University in the UK found that shock collars were no more effective at training dogs than traditional recall and control chasing techniques.
Spray collars are less invasive than shock collars but still a poor choice when training a Chihuahua not to bark. They work -- and I use the term "work" loosely -- by spraying substances like citronella or lemon juice in the dog's face when he barks. The short bursts of citronella or lemon juice sting the dog's eyes and nasal passages, punishing him for barking.
Rather than exposing your Chihuahua to pain and discomfort, follow the steps listed above to teach your Chihuahua his barking boundaries. As long as you remain consistent with your training efforts, your Chihuahua will learn when barking is acceptable and when it's not.
How do you stop your Chihuahua from barking? Let us know in the comments section below!
References:
http://www.humanesociety.org/animals/dogs/tips/how_to_stop_barking.html
http://www.cesarsway.com/tips/dogtraining/Dog-Barking-101
http://pets.webmd.com/dogs/guide/understanding-why-dogs-bark