Small in size but big in personality, the Chihuahua is a unique breed unlike any other. Perhaps this is why they constantly rank as one of the most popular dogs in the United States. Now let's take a look at some more fun facts about the Chihuahua.
Fact #1) Chihuahuas Were Once Called 'Arizona' and 'Texas' Dogs
Can you imagine a world in which Chihuahuas are called "Arizona" or "Texas" dogs? It may sound like something straight out of the Twilight Zone, but these fun-loving dogs were once called just that. This is due to the fact that some of the earliest specimens were discovered along the U.S.-Mexican border, prompting owners to call them Arizona and Texas dogs. Read more about the Chihuahua's history by clicking here.
Fact #2) The Chihuahua is Named After a Mexican State
Yep, the Chihuahua is officially named after Chihuahua, Mexico -- the largest northern state in Mexico. In the late 1800s, American travelers to the region discovered the breed, bringing some of them back to the U.S. While some Americans referred to them as Arizona or Texas dogs, "Chihuahua" soon became the universal name and has stuck ever since.
Note: in Mexico, the breed is called chihuahueño.
Fact #3) Chihuahuas Have One of The Longest Lifespans
With adults living between 15 and 20 years on average, the Chihuahua has one of the longest lifespans of any dog breed. Of course, smaller "toy" breeds tend to live longer than larger breeds, but another key factor attributing to the Chihuahua's longevity is its health. When compared to other breeds, the Chihuahua has relatively few health problems.
Fact #4) Chihuahuas Have a Clannish Nature
Chihuahuas are known for having a clannish nature, meaning they prefer the company of Chihuahuas more so than other breeds. This doesn't necessarily mean a Chihuahua won't "buddy up" with another breed, but they tend to prefer other Chihuahuas.
Fact #5) The World's Smallest Living Dog is a Chihuahua
A female Chihuahua named Miracle Milly holds the title as being the world's smallest living dog. Born December 1, 2011, she's a purebred apple head Chihuahua owned by Vanesa Semler of Dorado, Puerto Rico. So, just how small is Miracle Milly? When officials from the Guinness World Records sized her up February 21, 2013, she measured just 3.8 inches tall. That's one miracle-sized Chihuahua!
"To get an idea of just how petite she is, when she was first born she received milk from an eyedropper. Milly weighed less than one once when she was born," wrote Milly's owner on her website, MiracleMilly.com.
Video: World's Smallest Dog! - Guinness World Records 2014

Check out the video above to see Miracle Milley in action!
Fact #6) Taco Bell Made Chihuahuas Popular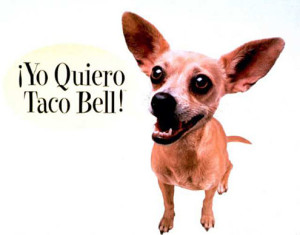 The country's leading Mexican-style fast food restaurant played a major role in the Chihuahua's popularity. If you watched television in the late 1990s, you may recall a series of Taco Bell commercials featuring a talking Chihuahua saying "¡Yo quiero Taco Bell!" (translation: "I want Taco Bell!"). These commercials were such a hit that it prompted Taco Bell to release toy figures of the dog. More notably, however, the commercials presented the Chihuahua on the television screens of millions of Americans, many of whom had never seen Chihuahuas before.
Fact #7) There are Only Two Recognized Varieties
While you'll often terms like "Teacup," "Toy," "Miniature" and "Deer head" being used to describe Chihuahuas, there are only two varieties recognized by the American Kennel Club: long coat and smooth coat (short haired).
Fact #8) Chihuahuas Enjoy Burrowing
If you currently own or have ever owned a Chihuahua, you're probably well aware of this trait. They'll often burrow under dirty clothes, towels and bed linens for comfort. So the next time you can't find your Chihuahua, check the laundry room!
Fact #9) The Chihuahua Has Never Won 'Best in Show' at Westminster
The annual Westminster Kennel Club Dog Show is one of the most prolific dog shows in the world. Ever since the first show was held in 1877, however, the Chihuahua has never won Best in Show, which is somewhat surprising considering its widespread popularity.
In all fairness, the Chihuahua isn't the only breed to have never won Best in Show. Other breeds that have failed to receive this award include the Labrador retriever, golden retriever, dachshund, shih tzu, miniature schnauzer, great dane and shetland sheepdog.
Fact #10) Chihuahuas Have One of The Largest Varieties of Coat Colors
You can find Chihuahuas in just about every coat color under the rainbow, some of which include black, chocolate, cream, fawn, red, silver, blue, gold, white, and combinations thereof.
Fact #11) Chihuahuas Should Be Under 6 Pounds
The American Kennel Club's (AKC) breed standards state that Chihuahuas should not exceed six pounds in weight. Of course, there are some that weigh more than six pounds, but this is the official AKC breed standard.
Fact #12) The First AKC-Registered Chihuahua Was Named 'Midget'
Born July 18, 1903, Midget was first Chihuahua to be registered with the AKC. His owner, H. Raynor of Texas, registered him just one year later in 1904.
Have any other fun Chihuahua facts that you would like to share? Let us know in the comments section below.
References:
https://books.google.com/books/about/Chihuahua.html?id=VvJF19X9NZIC